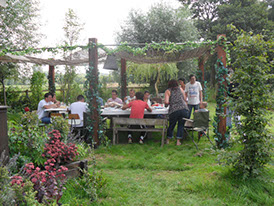 Family Day
This year we have enjoyed playing host to a number of families who have joined us at the fishery for the day. The youngsters have been taught not just fishing skills and techniques but also learned valuable lessons in watercraft and wildlife recognition.
For details of family days including fishing, family BBQs and riverside banquets please call our team on 01264 365165 or 07759 331385 for more information and availability of dates.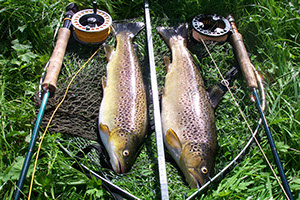 A Final Brace
As the season draws to a close one lucky visitor took this cracking brace of Rainbows. Whilst the fisherman concerned is keeping very quiet about his chosen fly he did let slip he was fishing deep with a heavy sinking line, and both fish came from the same swim within 20 minutes of each other.
A further smaller fish was caught an hour later as the day drew to a close and was returned by our happy chappy who retired after that to enjoy a cold beer with his not so happy riverbank colleagues who had not had such a fruitful day.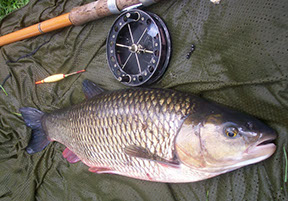 First Fish Of The Coarse Season
The Coarse fishing season on the Test at Timsbury fishing got of to a flying start with an eventful days fishing for some of our regulars.
The highlight of which is pictured here is the form of this cracking 5Ib 12 oz Chub taken on a worm using a simple float rig and providing an exciting fight for the light tackle and centre pin reel.
The quality of this fish is testimony to the ongoing fishery management and considerable efforts made to maintain as natural an environment as possible throughout the year.
10lb Pike on a Lure
Coarse fishing season on the Test at Timsbury fishing continues to provide superb sport for our fisherman.
This lively 10lb Pike take on light spinning tackle using a lure put up a spectacular fight and at point threatened to treat us to a tail walk.
Questions already being asked as to how safe Marco Pierre Whites beat record Pike of 33lb 7oz (pictured right) from March 2013 will be broken this season.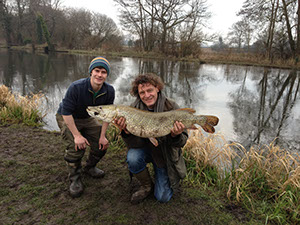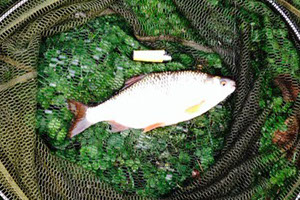 A Busy Weekend
As winter approaches the surprisingly warm weather has attracted more coarse fishermen out onto the river bank and this last week has seen some personal best catches some of which are listed below. The weekend has also returned some quality catches. Remember to feedback your catches and hopefully a picture for inclusion here on the site and our facebook page.
24th October 2014 - 1lb 8oz Grayling - Rene Gibson
31st October 2014 - 1lb 12oz Roach - Anon
31st October 2014 - 1lb Dace - Anon
1st November 2014 - 1lb 10oz Grayling - Tom Oliver
1st November 2014 - 1lb 5oz Grayling - Chris
To book a days coarse fishing for just £20.00 call 07759 331385. Remember to read our Coarse Fishing Rules.
A Cracking Winters Tale
This beautiful 2lb Roach was taken towards the end of a great days fishing.
Also caught on the day another pristine 1lb 5oz Roach and a 4lb Chub.
We look forward to more prize catches and personal bests of the next few months.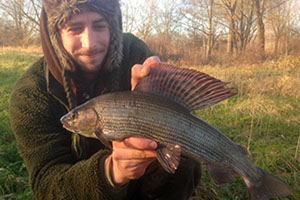 A Great Start To The New Year
This specimen 2lb 9oz Grayling was caught by Mark Webster on the 2nd January of what was a very cold day on the river bank.
Mark however was kept warm by the activity on his line by some prolific bites and and cracking brace of Grayling, pictured left is the 2lb 9oz Grayling, beating his previous 2lb 7oz just a few minutes earlier.
In addition to the Grayling the chub were also on the feed, and true to his form that Day Mark landed a couple of clonkers, one of which broke his own personal best tipping the scales at 6lb 14oz.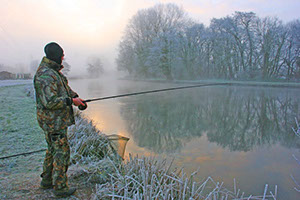 Early Mornings
For those who brave an early start the winter months not only provide some spectacular fishing but also some of those beautiful unforgettable early morning scenes that only mother nature can provide.
To secure a swim for a days coarse fishing for just £30.00 call 07759 331385.
Remember to read our Coarse Fishing Rules.